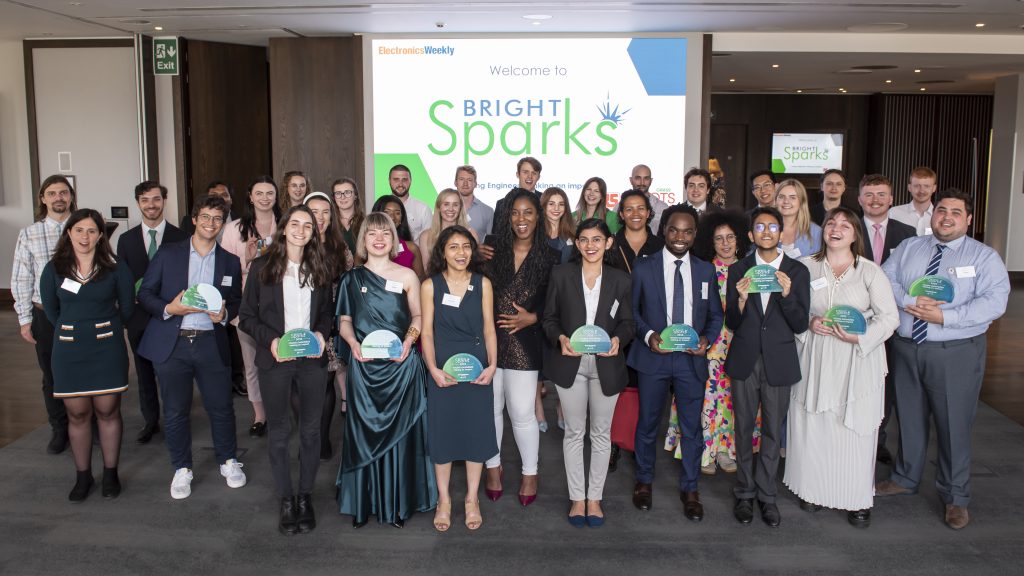 The classes of both 2022 and 2020 received their awards, with the latter having seen their year's event affected by the Covid-19 pandemic. Thirty three young engineers received their trophies, in total, at the lunch and networking event.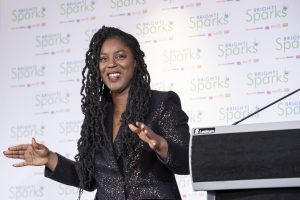 Our excellent host on Friday – who got everyone into the BrightSparks spirit – was Yewande Akinola, MBE HonFREng (right), who specialises in sustainable water supplies. As well as working as Principal Engineer for Laing O'Rourke, she hosts television shows about engineering for Channel 4 and National Geographic.
The awards are to help highlight some of the UK's brightest young electronics engineers, and it was great to see the EW BrightSparks who could make it to the London event.
Winners of 2022
You can see the full list of 2022 winners below, along with a picture gallery of images from the event at the foot of this article.
Individual profiles of the EW BrightSparks will follow in the coming weeks. Congratulations, again, to them all!
Speakers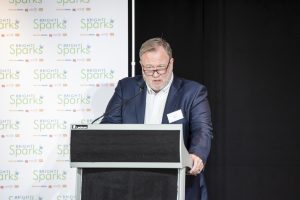 Lindsley Ruth, CEO of RS Group and the longest-standing supporter of EW BrightSparks (right), opened the awards ceremony, and highlighted the achievements and initiative of the BrightSparks.
"We know there is a skills gap in this sector," he said, "and we are committed to help encourage a greater take-up in schools and universities of STEM and engineering related subjects."
There was also an inspirational speech by Nadja Yang, President of European Young Engineers (EYE) and one of Forbes' 30 under 30 (above right), who shared some hard-won learning from her engineering journey, in the field of urban bio-engineering.
And we also heard a great story of progress from Nathan Ruttley (right)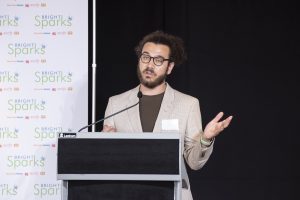 , the co-founder of boutique engineering consultancy Embedism, who is also a previous EWBrightSparks 2019 winner.
Our own Richard Watts, Managing Director of emap and group publisher for Electronics Weekly (below right), closed the awards.
He said that each year we are impressed anew with the range and quality of entrants, and this year seemed like a bumper year.
"What separates EW BrightSparks from other high achievers," he said, "is the commitment to helping other people as well. All the worthy winners have engaged with a wider community, to help others."
The selection panel for EW BrightSparks 2022, taken alphabetically, was: Clive Couldwell (Group Editor, Electronics Weekly), Graham Curren (CEO, Sondrel), Dr. Ollie Folayan (Co-founder, Chairman, AFBE-UK), Tim Mamtora (Chief of Innovation, Imagination Technologies), Isabella Mascarenhas (Vice President, Grass Roots & Shining Stars, RS Group), Lindsley Ruth (CEO, RS Group), Lizzie Truett (Young Professionals Strategic Development Manager, IET), Nadja Yang (President, European Young Engineers (EYE)).
Now in its fifth year, Electronics Weekly has teamed up with RS Grass Roots for EW BrightSparks to highlight the brightest and most talented young electronics engineers in the UK today.

EW BrightSparks 2022
We were looking for young engineers who are already making a difference in the first years of their working life, or who are still studying but showing the promise to become the people behind big future innovations in electronics. And we certainly found them!
Sergio Miguez Aparicio, MEng Hons Electronics and Computer Science Student, University of Edinburgh

Sergio has developed two Energy Harvesting patents focused on zero power sensors and communications. STMicroelectronics expects one of them to make a strong impact in IoT.
President & Co-Founder of HumanEd, the humanoid robotics society at the University of Edinburgh, he has worked in the field of robotic limbs, exoskeletons, bipedal motion, and AI.

Simon A. Betts, MEng Electrical and Electronic Engineering Student, Cardiff University

Simon, while studying for his Master's degree, has started his own company, been a student representative for UKESF, been a student mentor, and been President of the university's electronics and technology society.
Among other STEM work, he developed a project that looks to teach students about measuring the blood oxygen level of an individual through an optical sensor. He also organised a STEM awareness event in Cardiff for parents and children.

Daisy Bristow, Digital Engineer and Content Creator/Student, University of the West of England

Daisy's work spans education materials, videos and interviews with Q&As, all aiming to educate and inspire the next generation of STEM cohorts and develop people's understanding of engineering principles.
She has created videos and tutorials that teach children, at primary school ages and lower secondary school, how they can use tools in Minecraft to emulate what they are learning about real world engineering.

Virginia Cangelosi, Electrical and Electronics Engineering Student, University of Edinburgh

Having taken part in Huawei's Seeds for the Future programme, Virginia was also part of the team winning the Mach-21 CanSat competition and representing the UK at the European Rocketry Challenge (EuRoC) in Portugal.
She was responsible for the development of a CanSat payload for Edinburgh University's Endeavour rocket designed to investigate fluid sloshing and particle interactions in the atmosphere.

Nishika Chettry, MEng Student / Embedded systems software developer, Aston University / Renesas Electronics

Nishika, a UKESF Scholar in a placement at Reneseas, is developing secure bootROMs for microprocessors, including an automated test system using Python, which has an interactive GUI and automates 80% of the process.
She has won the HKP Burt Memorial prize and the IMI Prize, and been involved with a STEM superhero campaign at Aston University. She has also been involved in the 'Girls into Electronics' to promoting electronics to sixth-formers.

Mihai Ciortuz, IC Engineer, Crypto Quantique

Mihai had to learn fast at this quantum-driven analogue semiconductor IP startup, getting to grips with some of the industry's most advanced design tools and helping to significantly increase the company's design productivity.
Throughout his short time with the company, his colleagues have been deeply impressed by his ability to learn quickly, identify gaps in his knowledge and correct them. He is described as 'incredibly hard-working'.

Sarah Cooper, Senior Hardware Engineer, Leonardo

Sarah has been involved in a wide array of activities, spanning production support of Leonardo's existing counter-measure systems, through to early concept design of next generation aircraft technology.
A big achievement was her involvement in complex EMC design and testing for a valuable customer. She was the main hardware engineer completing this work package and helped achieve successful results for the project.

Tom Culley, Networks Degree Apprentice, BT

Since joining BT's Networks team in 2018, Tom has not only taken on technical challenges and improved processes as an Apprentice but has been a huge advocate for STEM Apprenticeships, both inside BT and out.
He has been recognised for his outstanding efforts with a certificate of merit from TechUK and was invited to speak with the Secretary of State for Education, with other BT Apprentices, at No. 10 Downing Street.

Shrouk El-Attar, Lead Senior Electronics Engineer, emm Technology

Shrouk is the Lead Senior Electronics Engineer at emm Technology working on smart menstrualhealth solutions that are more inclusive to transgender people and other under-represented communities in tech.
For her master's thesis, she created a machine to use new methods of detecting organic compounds including certain cancers based on electron quantum spin, research that moves towards replacing bulky and expensive ESR machines.

Mohamed Elrayah, Student, Southampton University

In an electronic engineering design module, Mohamed was responsible for designing the schematic and layout for a ring oscillator circuit and building a clock divider circuit using D-Type Flip Flops for output.
As secretary of a 300+ member student-led society, he was responsible for organising weekly meetings and during the pandemic helped organise high-attendance virtual events, such as a Bloomberg mental health workshop.

Ece Erkan, Electrical and Electronic Engineering Student, University of Sheffield

Ece's academic success has been recognised by her department and she was awarded the EEE Faculty Undergraduate Bursary for her academic achievement in the first two years of her degree.
She is part of a student-led project Project Marsworks working on the design and development of a Mars rover to compete at the European Rover Challenge. She's been in charge of the team's documentation and communications.

Charlotte Fitzpatrick, Digital and Technology Solutions Degree Apprentice, BT

Charlotte led on the Remote PC access project to enable hundreds of employees to access their computers remotely due to coronavirus. She was responsible for installing and troubleshooting the new application used to remotely access PCs in the office.
She worked with the STEM ambassador organisation and came up with the idea of hosting a Myth busting video to spread awareness of STEM apprenticeships and address common stereotypes surrounding them. This was pre-recorded and hosted on YouTube.

Dr Ethan Gardner, R&D Engineer, Flusso

Ethan has developed into the company's lead engineer developing gas sensing technology using thermal conductivity, using the sensors and knowledge developed during his PhD (developing technology for CMOS MEMS flow sensors).
Filing two patents and co-authoring on seven, he won the award for IEEE Best Paper at the 2017 International Semiconductor Conference (CAS) in Romania for his pioneering work on 2D and 3D thermal flow sensor modelling.

Samrudhi Inamdar, MSc Astronautics and Space Engineering Student, Cranfield University

Samrudhi has worked as a research fellow at the Indian Space Society, championing green/environment-friendly technologies for future satellite communication, demonstrating her commitment to sustainability within the Space Engineering sector.
She has been a key member of the Communications and Onboard Data Handling Subsystem in the Electrical Work package for the Group Design Project "HoneyMoon", the design of an experiment to study the survival and reproduction of bees in space.

Mihai Daniel Ivanescu , Graduate Software Engineer, Imagination Technologies

For his dissertation for Computer Hardware and Software Engineering, Mihai created a microcontroller-based circuit as a low-cost solution to the problem of e-waste, specifically the waste of old television sets.
The project used a customised PCB with an ESP32 MCU, featuring PS/2 keyboard input, VGA video and headphone jack audio. As proof of concept, the interface featured a news feed, internet radio, and an app downloader. The apps were a weather tracker and Tetris.

Oliver Kanjoo-Parsons, Student / Student Team Director, Salford Racing, University of Salford

Oliver has worked as Salford Racing Team Director, helping to design, develop and build a single seater race car to compete at the IMechE Formula Student competition, impressed people with his leadership skills.
To help young people from diverse and low income communities access higher education, he has been involved with the GM Higher programme, showing how to convert interest in video games into careers in motorsports via engineering and computer sciences.

Sarah Keane , Field Applications Engineer, ADI

In response to the pandemic, Sarah created the ADI UK internship program to give students a chance to gain experience of the industry. She spearheaded the initiative, engaging with colleagues and universities to help establish its framework.
She went on to manage and mentor the interns, which resulted in several joining the company as Graduate engineers upon completion of their studies and she continues to manage and mentor all new European graduates.

David Kong, MEng Electronics and Electrical Engineering Student, University of Edinburgh

During an internship at onsemi, David wrote firmware for an automotive image sensor and developed some tools for image sensor testing, and at Imagination, he developed performance models for different processor components.
David has been awarded a range of scholarships, including The Royal Academy of Engineering (RAEng) Engineering Leaders Scholarship, and won both the NEC Semiconductor Prize and the Alasdair Sutherland Prize at the University of Edinburgh.

Sharon Kudenko, Photonics Engineering Intern / Student, CSA CATAPULT/University of Bristol

Sharon has shown extraordinary skills in mid-high-level software and has applied these techniques to automate photonics and RF testing, her nominator frm the CSA (Compound Semiconductor Applications) Catapult told us.
For STEM, she developed an activity using an optical tweezers test-kit to enrich students' understanding of A-level physics and engage students in the field of optoelectronics, exposing students to the field of photonics at a deciding moment in their career paths.

Oana Lazar, MEng Electronic Engineering with Industrial Studies Student, University of Southampton

During her placement with Tessent Embedded Analytics, Oana successfully worked on a new product called the Embedded Software Development Kit (ESDK), satisfying a key design requirement for ESDK through creating a low-level C library.
She has been a Coordinator for Invent Plus, an incubator project from Southampton's branch of Student Hubs, a national charity that shares engineering with school children from disadvantaged backgrounds, helping bridge the STEM inequality gap.

Janesh Luximan, Year 3 BEng Biomedical Engineering student, King's College London

Janesh obtained 80% in the final year group Mechatronics project. Its theme was an environment monitor, with the Arduino project monitoring five sensors measuring temperature and humidity, turbidity, ultrasonic, TDS (Total Dissolved Solids) and water quality.
He also did a Water Quality Monitoring and Notification System. It simulated a reservoir system with water sensor, pH sensor, turbidity sensor and a notification system for when the water level is low and to make sure the water is safe.

Arturas Matusevicius, MSc Electronic Power Engineering Student, University of Northumbria Newcastle upon Tyne

His nominator said Arturas is one of the most talented young engineers in the UK, and one of the most motivated engineering students that he had encountered, with a high level of aptitude and diligence in electronic power engineering.
His specialism is in the future of battery technology and their potential for greater energy sustainability. He can master engineering design and think creatively, as well as write very clearly about abstract engineering concepts for a public audience.

Callum Middleton, Senior Packaging Materials Engineer, CSA Catapult

His nominator at the CSA (Compound Semiconductor Applications) Catapult said has been an example of professionalism and made exceptional contributions to the projects he has worked on, displaying a 'can do' attitude and leading on four projects.
Projects he has worked on include: an RF GaN diamond demonstrator, growing crystalline diamond on silicon substrates for space, a high reliability optical source for space-based quantum sensing, and a power inverter module for electric vehicles.

William Lee Millar, Senior Fellow, The European Organization for Nuclear Research (CERN)

William has a PhD in RF Engineering with Lancaster University as part of the CERN Doctoral Student Programme, based at CERN, and an MEng in Nuclear Engineering (First Class Honours) at Lancaster University.
His community engagement includes regularly organising and providing tours of CERN'S Compact Linear Collider (CLIC) test facility for students at various stages in their education and participating in an outreach event by Lancaster University titled "Discover Engineering: Engineers and Particles".

Dr Ejay Nsugbe, Founder and Chief Engineer, Nsugbe Research Labs

Ejay has shown scientific entrepreneurship by founding Nsugbe Research Labs where his work has applied AI technology to innovate in different aspects of modern medicine, helping to improving technology affordability where practitioners are constrained.
For example, Gesture Recognition for Prosthesis Control Using Wearable Sensing, addressing transhumeral amputees (the largest Upper-Limb amputee cohort in the UK). It remains challenging to design bionic upper-limb prosthesis due to the poor signal quality from the residual stump.

Alberto Progida, Mechanical Engineering Student, University of Edinburgh

Alberto is the Systems Lead at Endeavour, the University of Edinburgh's rocketry team. Responsible for the development of Darwin III, he led the Endeavour sub-team in the development of a modular payload able to accommodate different mission profiles aboard three different launchers.
He won the Mach-21 CanSat competition and represented the UK at the European Rocketry Challenge in Portugal 2021, and interned as a Testing Engineer at Rocket Factory Augsburg (RFA) in Germany, working on pressurised systems and hardware like Swagelok, AN, and BSP fittings.

Jessica Reading, Engineering Degree Apprentice, Siemens PLC

Jessica's key responsibilities at Siemens Congleton include managing a new assembly-station, supporting Value Stream 2 with any production issues and acting as LEANin-Office coordinator, whereby team savings targets must be met.
She also acts as a STEM Ambassador, YAAN and WISE member, tutor GCSE students in mathematics and focus mainly on promoting equal opportunity, continuous learning, and diversity and inclusion, and I hope to continue to inspire and empower others to learn about the sector.

Ana Claudia Reis, Senior Software Engineer, Imagination Technologies

As part of the application programming interface (API) team at Imagination, Ana works together with engineers and developers to deliver APIs for neural networks that run on different platforms. This helps drive optimisation for the networks as well as the software execution.
She has taken part in Imagination's STEM outreach programme at Kings Langley. This is aimed at schools and provides students with the opportunity to learn coding with Lego robots through live workshops. It has had great feedback from teachers and students.

Amy Suddards, PhD student in radio astronomy technologies, University of Manchester

Amy has completed her MPhil project, "Optimising the Performance of Wideband Low Noise Amplifiers for Radio Astronomy Applications", involving the development of high frequency waveguide-to-microstrip transition designs for use alongside Indium Phosphide MMIC-based LNA chips.
She was recently invited to present her design and model improvement work to the millimetre wave group at STFC's Rutherford Appleton Laboratory in Harwell due to collaborative involvement in manufacturing the project designs.

Jack Tufft, Mechanical Engineering MEng Student, University of Glasgow

Jack is the founder of GU Rocketry, the University of Glasgow's student-led rocket development programme. Since 2020, the project has grown from a small group of undergraduates to now having over ninety members in a range of technical and non-technical roles.
The team has three main goals: the Saltire rocket programme, the Chimera hybrid engine development programme, and outreach. The Saltire rocket family began with Saltire-1, reaching an altitude of just over 5000ft and was fully recovered.

EW BrightSparks Supporters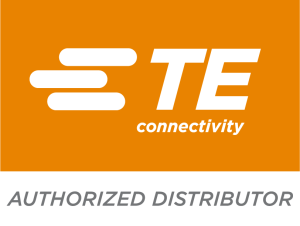 We are very grateful to the companies and organisations that help support the EW BrightSparks programme, and make it possible.
Special thanks to: TE Connectivity and the UK Electronics Skills Foundation.
Image gallery 2022